Benefits of Manufactured Homes
For first-time manufactured home buyers, making the transition from a traditional home to a manufactured home can be daunting. With so many mobile home sizes, designs, and materials to choose from, the options are seemingly endless. While moving to a manufactured home involves a bit of a learning curve, the advantages of owning this type of home make it well worth the effort. Don't believe us?
---
Check out these 5 benefits of moving to today's manufactured home.
---
Today's Manufactured are safe and quality controlled.
While many assume that mobile homes are vulnerable to weather, the Manufactured Housing Institute points out that this is a common misconception. For those who don't know, the common term "mobile home" actually refers to homes built before 1976. Any homes built after 1976 are technically referred to as "manufactured homes" because around this time, the U.S. Department of Housing and Urban Development significantly raised the quality standards and requirements for these types of homes. In fact, all recently built manufactured homes are required to be up to code. This includes the home's heating and air conditioning systems, fire safety, plumbing, electrical systems, structural design, construction, energy efficiency and transportation, according to the MHI.
The organization also points out that today's manufactured homes are "engineered for wind safety and energy efficiency based on the geographic region in which they are sold." So if you're purchasing a manufactured home in Florida, for instance, you can rest assured that it has been built to withstand hurricane force winds. Today's "mobile" homes are also held in place by steel anchors, which secure the home to the ground.
You won't break the bank when purchasing a manufactured home.
Perhaps the biggest draw of buying a manufactured home is its low cost and affordability. Compared to traditional, site-built homes, manufactured homes offer more bang for the buck in terms of dollar per square foot. According to the Manufactured Housing Institute, mobile homes in 2015 "cost less than half as much as the estimated $100.65 per square foot for new site-built housing construction." Today, the organization reports that the average price for a new, single-wide mobile home is $45,000. When you compare that to today's average price of a new, site-built home at $379,500, you can see just how much money you could save by purchasing a manufactured home. While a monthly payment for a manufactured home may be in the hundreds, it's nothing compared to the monthly mortgage payment for a site-built home in the thousands. Owning a manufactured home is even cheaper than most rental rates. Given its affordability, manufactured homes are one of the best options for obtaining home ownership without breaking the bank.
Purchasing a manufactured home gives owners, the ability to live more simply.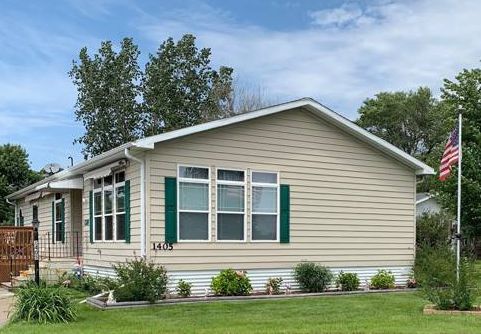 Many people choose to move to a manufactured home in order to live more simply. This type of "less is more" attitude has been scientifically proven to improve the mental well-being and overall health of those who adhere to this lifestyle. According to U.S. News and World Report, favoring "the environment over material consumption and income has been linked not only to improved environmental sustainability but also boosted mental and physical health." The article reports that a survey out of the University of the Sciences in Pennsylvania discovered that those living simply reported "improved physical health after voluntarily making a change to earn less money." So for those looking to embrace the simple living movement, purchasing a manufactured home is the perfect way to do so.
Also, since your manufactured home may be less spacious than your former traditional home, you won't have to worry as much about the maintenance of the property. After all, a smaller home with a smaller land lot means less landscaping and house maintenance. That means you'll have more time to enjoy life with family.
Purchasing a manufactured home is environmentally sound.
If you are hoping to save costs on utilities while simultaneously benefiting the environment, then purchasing a manufactured home could be a very smart investment. The Manufactured Housing Institute reports that these homes are constructed in a way that yields up to "90 percent less waste and environmental impact than site-built housing." This increased energy-efficiency makes mobile homes much eco-friendlier and greener than standard traditional homes. Also, as the Manufactured Housing Institute points out, since these manufactured homes are created in a factory and assembled on site, their transportation to a mobile home community creates little environmental damage. Especially compared to that of building a traditional home, where raw materials must be moved to and from the construction site daily.
Living in a manufactured home park gives owners a sense of community.
Another advantage of moving to a manufactured home is the sense of community that many owners feel within their neighborhood. Owners can have their own space – driveway, backyard, and detached walls – but are still close enough to neighbors to fuel plenty of social interactions. According to the Manufactured Housing Institute, many of these land-lease communities offer social clubs, group activities, fitness amenities and caring neighbors.  Visit our Community Page to find you forever home today!
Here are six prevalent manufactured housing myths and the facts that debunk them.